The Samsung Galaxy S8 and Galaxy S8+ just got unpacked, it's time for introductions. The hotly anticipated flagships build on the S7 edge design largely by taking over the bezels.
The two phones mostly differ in screen size – the Galaxy S8 has a 5.8" screen, the Galaxy S8+ is at 6.2". Both are Super AMOLEDs with an extra wide aspect ratio of 18.5:9, they have the same resolution too (1,440 x 2,960px). Also notice the rounded corners of the screen.
HDR10 is supported, just like it was on the Note7, but Dolby Vision is not. Samsung partnered with Amazon to bring HDR capable content. This is also the first Ultra Dynamic Range certified screen, but details are scarce.
The hardware controls below the screen are gone, replaced by pressure-sensitive on screen buttons. Plus, Samsung claims its tactile feedback is better than Apple's.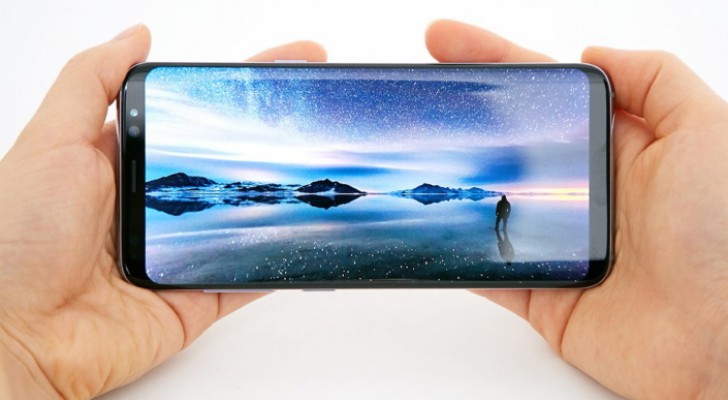 One new button did appear – it summons Bixby, the digital assistant. Bixby has three jobs, the first of which is to answer voice queries. It can see the world around it too, not just listen to it. Image recognition can spot landmarks and find products on Amazon. Finally, there's a hub on the homescreen similar to Google Now. By the way, Bixby will power Samsung's Internet of Things – the company expects by 2020 most of their appliances will be connected and under Bixby's control.
Moving on, the Galaxy S8 camera uses the 12MP Dual Pixel sensor from the S7 but with improved software – it captures multiple exposures to raise image quality. Samsung calls it Multiframe Processing and it sounds a lot like Google's HDR+. The selfie cam did get a hardware upgrade (as well as the Multiframe Processing), it now has an 8MP sensor and autofocus (with clever face detection).
The Galaxy S8 and S8+ are the first phones to launch with 1 gigabit LTE, thanks to the Snapdragon 835 and Exynos 8895 chipsets. Different countries get a different chipset, but performance should be very similar between the two.
Some countries are special when it comes to memory, though. Most of the world will get 4GB of RAM and 64GB storage, but some (China and Korea, presumably) will get 6GB/128GB instead. Worry not – fast storage is easily available thanks to the UFS/microSD hybrid card slot!
Perhaps the only other difference between the S8 and S8+ (well, aside from price) is the battery. The S8 gets a 3,000mAh battery, the bigger Galaxy S8+ comes with a 3,500mAh pack. Both are sealed and feature Samsung's Adaptive Fast Charging (the relatively old Quick Charge 2.0 is also supported). There's fast wireless charging too, both WPC and PMA.
The flagship duo is waterproof as you would expect (IP68) and Samsung switched to the latest Gorilla Glass 5.