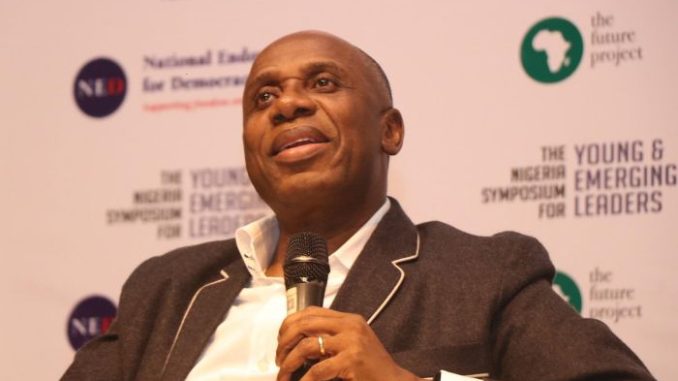 Drunkard' Wike Spent N50m On Alcohol That Could've Built A Primary School – Amaechi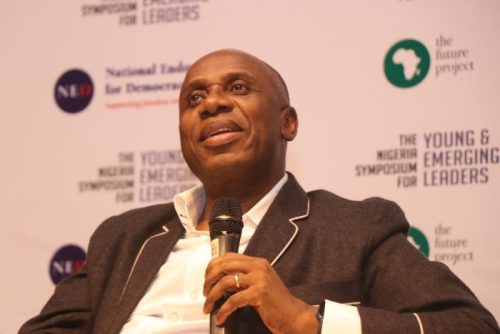 Chibuike Rotimi Amaechi, the immediate-past Minister of Transportation and former governor of Rivers State, has described his successor, Nyesom Wike, as one who 'drank' millions that could have catered for the building of schools in the State.
The former governor, stated this on Tuesday during the governorship campaign of its All Progressives Congress candidate, Tonye Cole, in Ogba-Egbema-Ndoni Local Government Area of the State.
Amaechi claimed that Wike spends N50 million from the State resources on alcohol every week and should not be allowed to waste taxpayers' money on frivolities.
We understand that Amaechi was reacting to Wike's statement where he said he was drinking a 40-year-old whiskey, while leaders of the Peoples Democratic Party (PDP) were protesting at the INEC headquarters in Abuja last week.
The former minister called on the people of the State not to allow Wike have a third term through his stooge, and continue to waste state funds meant for development.
According to him, the amount of money Wike spends on alcohol in two weeks, is almost equivalent to the amount he spent to build one primary school when he served as governor.
His words,
"The person Wike buys alcohol from, said Wike spends N50million every week on alcohol. The primary schools we built are 112 million naira, which means that in two weeks Wike has drunk one primary school. When Wike talks, it is alcohol that is talking. And he's so shameless about it. Wike told the whole world on live TV that he was drinking a very expensive 40-year-old whiskey, in the morning.

"We are asking INEC to be neutral. The people have rejected Wike and his government. On every street I went to, people were jumping on top of me shouting. They were remembering that I built five flyovers, and I did not dance. We employed 400 new doctors, bought cars for 600 doctors, and bought ambulances for all the health centers. We went round primary schools to see what was going on and discovered there were no teachers, so we hired 13,200 teachers. By the time I left as Governor, there was a contractor in every school to maintain the school. Where are the schools that he (Wike) built?"