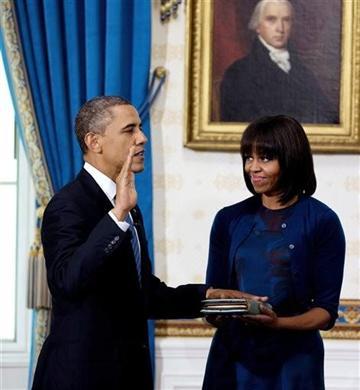 WASHINGTON (AP) – His second term already under way, President Barack Obama aims to set an optimistic tone when he takes the oath again to lead a divided nation seeking solutions to economic woes at home and conflict overseas.
Hundreds of thousands are expected to gather on the National Mall to witness Obama's swearing in and inaugural address Monday. The celebrations will extend across the nation's capital, including the traditional inaugural parade and a pair of glitzy formal balls.
In his inaugural address to the crowd in Washington and millions more watching on television, Obama will urge lawmakers to find common ground when they can, and preview his second term goals, including comprehensive immigration reform, stricter gun control laws, and an end to the war in Afghanistan.
"What the inauguration reminds us of is the role we have as fellow citizens in promoting a common good, even as we carry out our individual responsibilities that, the sense that there's something larger than ourselves, gives shape and meaning to our lives," Obama said, previewing his address during brief thank-you remarks to donors at a reception Sunday night.
The mood surrounding Obama's second inaugural is more subdued than it was four years ago, when the swearing in of the nation's first black president drew 1.8 million people to the Mall. Still, organizers were expecting up to 700,000 to attend Monday's events, which would make it the largest second-term inaugural in history.
The weather forecast was encouraging, to a point. High temperatures were predicted for the lower 40s during the day, with a slight chance of rain and snow showers in the afternoon and flurries later.
Security was tight across Washington, with several streets near the White House and Capitol Hill closed off. Humvees and city buses were being used to block intersections.
David Richardson of Atlanta and his two young children were among the early crowds heading to the National Mall Monday even before sunrise.
"We wanted to see history, I think, and also for the children to witness that anything is possible through hard work," Richardson said.
Wendy Davis of Rome, Ga., was one of thousands of inaugural attendees who packed Metro trains before sunrise headed for the Capitol and parade route. Davis came four years ago as well but was among the many ticketholders who couldn't get in because of the massive crowds. She was determined to get in this time.
"I thought I was early last time but I obviously wasn't early enough," she said.
The president was officially sworn-in shortly before noon on Sunday, in keeping with the Constitution's mandate that presidents begin their new term on Jan. 20. But because inaugural ceremonies are historically not held on Sundays, the public celebration was pushed to Monday, coinciding with the birthday of late civil rights leader Martin Luther King Jr.
Washington largely shelved its partisan fighting for the three days of inaugural celebrations. But pressing matters await Obama as he starts his second term, including three looming fiscal deadlines. He'll also need help from a reluctant Congress if he hopes to fulfill his promise to sign comprehensive immigration reform and tighten gun laws in the wake of last month's school shooting in Newtown, Conn.
The president and his family will begin their day at a morning church service before heading to the Capitol for the swearing-in. Obama will attend the traditional luncheon with lawmakers before joining marching bands and floats in the inaugural parade, which winds its way from Capitol Hill to the White House.
The president and first lady will then slip into formalwear for two swanky inaugural balls. That's far fewer than the 10 they attended after the 2009 inauguration, though this year's events are still expected to draw up to about 40,000 people.
The centerpiece of Monday's activities was Obama's inaugural address. Aides said he would make the case that the nation's founding values can still guide the country through changing times. He is not expected to outline specifically policy proposals, saving them instead for his Feb. 12 State of the Union address.
Some Americans, weary after four years of shaky economic news, implored Obama to focus on patriotism, not politics, in his remarks.
"I'm just hoping for a nice eloquent speech that makes people feel good about being an American," said Sean Payton, a 32-year-old Democrat from Highland Ranch, Colo.
Monday's celebrations bring to a close three days of inaugural fanfare across Washington, including a day of service, a wreath-laying at Arlington National Cemetery, and a concert honoring military families.
The quirk in the calendar meant Obama would end up being sworn in for his second term twice. Sunday's ceremony was an intimate gathering at the White House, with only a dozen family members on hand to witness Chief Justice John Roberts administer the oath of office.
Obama placed his hand on a Bible used for years by Michelle Obama's family. On Monday, he'll take the oath using two – one owned by King and one by Abraham Lincoln.
Vice President Joe Biden was also to be sworn in for the second term a second time Monday. Biden took the oath of office Sunday at the Naval Observatory in northwest Washington. Justice Sonia Sotomayor, appointed by Obama as the first Hispanic to serve on the Supreme Court, administered the oath to Biden, who placed his hand on a Bible his family has used since 1893.
Ahead of his swearing-in Sunday, Obama, along with Vice President Joe Biden, solemnly honored the nation's fallen soldiers during a wreath-laying ceremony at Arlington National Cemetery. On a crisp, sun-splashed morning, Obama and Biden placed a large wreath adorned with red, white and blue ribbon, in front of Arlington's Tomb of the Unknowns. Holding their hands over their hearts, the two leaders stood motionless as a bugler played taps.